9 Step Guide to Outdoor Heaters: How To Choose The Best Solution
Having trouble deciding which Bromic heater is right for you?
You have come to the right place! Outdoor heaters are the best way to extend your patio season all year-round. Watch the leaves fall from your backyard oasis in comfort and style. Whether you prefer a sleek and sexy style or a more rustic chic vibe, we have options for everyone. Bromic patio heaters are designed to produce as much heat as possible. We take the guess work out of choosing outdoor heating. Canada Outdoor Kitchens will create a custom heat plan for you space, free of charge. Choosing an outdoor heater seems simple however there are several important factors to consider before you make a purchase. We've broken it down into a 9-step process:
1. Understanding the difference between forced air and radiant heat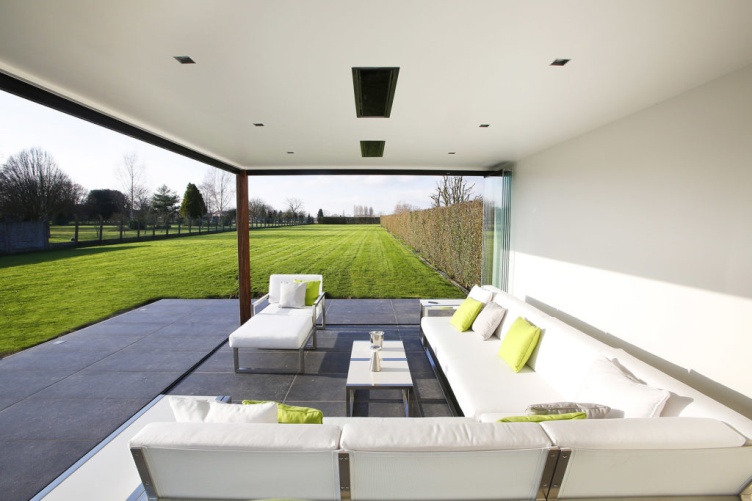 Typical indoor spaces are heated using forced air. Forced air works indoors because it is an enclosed space. Hot air is forced from your vents and circulated throughout the space. This cannot work outside for two reasons; hot air rises and dissipates and second, even the slightest breeze would quickly blow away any hot air coming into the space.
Radiant heat warms objects, not air. Think of it like the sun. You can still feel the warmth of the sun's rays even on windy days. Instead of moving warm air through the space, it is projected onto people using infrared heat radiation.
At Canada Outdoor Kitchens we only supply radiant heaters from Bromic Heating.
2. Defining your outdoor space
An outdoor space is defined as any space with at least 30% of it being open to the outside air. This could be any combination of open front, back, sides or roof configurations. Knowing your space will help dictate what type and how much heat is required to sufficiently heat the space.
Important things to be aware of: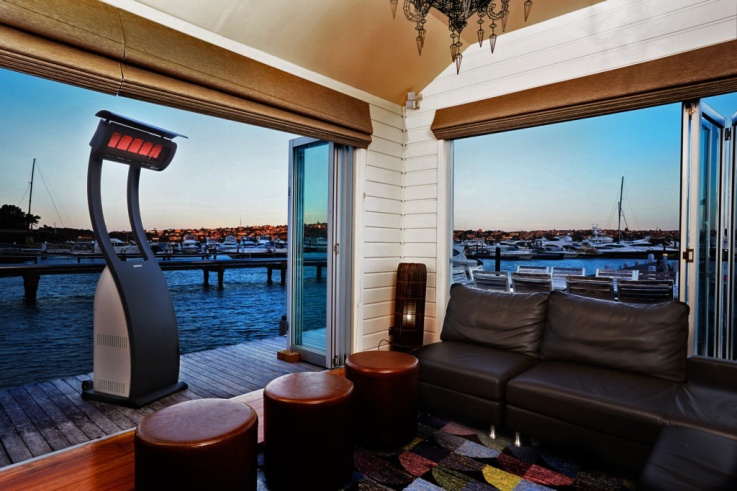 Geography
Proximity to bodies of water
Wind direction
Age of construction
Building codes
Height clearances
Energy sources
3. Type of radiant heat: Direct vs. Indirect
"Direct heat is a mixture of short and medium length wave technology, which produces the highest level of efficiency. Directional heat implies that the majority of the heat produced is pushed in one direction, allowing for better heat coverage.

Indirect heat does not produce a high radiant heat property, so it has lower efficiency levels, and is more susceptible to wind and external factors. Heaters using indirect heat have a slower heat up time than direct heaters. Non-directional heat pushes the warmth evenly in all directions." – Bromic heating
4. Which power source should you choose: Gas or electric?
Factors to consider when selecting fuel type: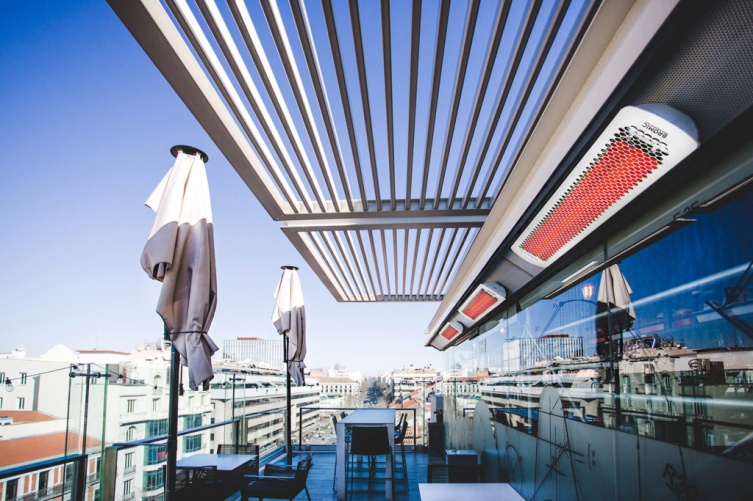 Space size and shape
Availability of utilities
Operational costs
5. Creating a heat map
Before we install any outdoor heating system, our designers will create a heat map of your space. This will help us determine what type and what quantity of heaters are needed to heat the space sufficiently. For example, your backyard patio may not need as many heating units as a restaurant patio. This helps us determine your level of need.

6. What are the cost differences?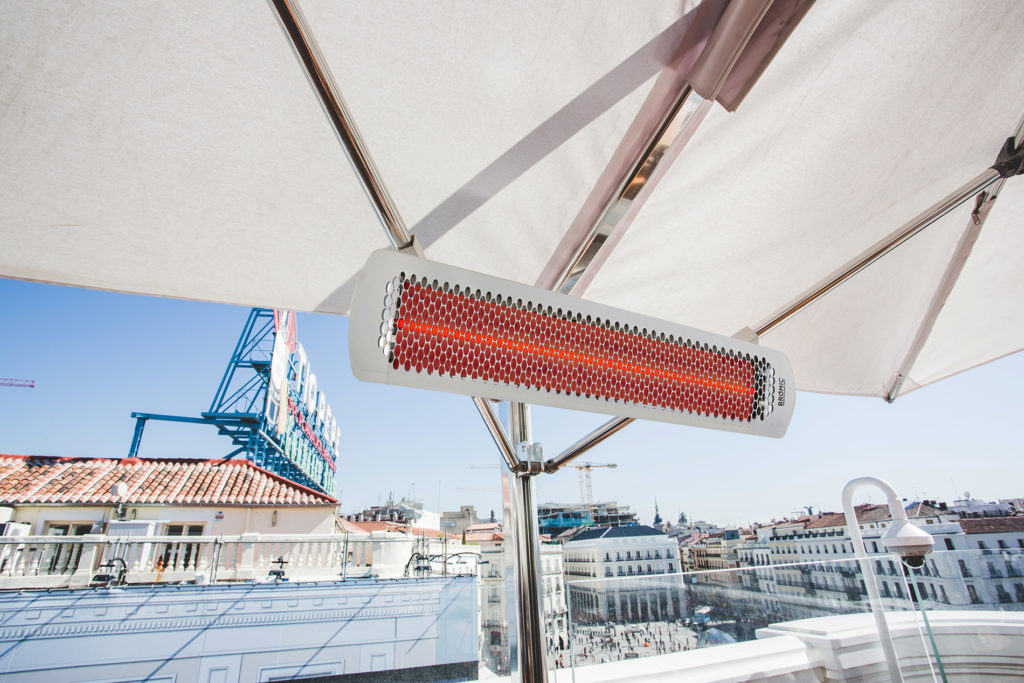 Bromic heating experts estimate the heating cost differences are approximately the following: per 200 FT2 of outdoor coverage.
| | | |
| --- | --- | --- |
| Natural Gas | Propane | Electric |
| $o.78/h | $3.00/h | $2.31/h |
These figures are just a reference guide and will depend on your geographical area.
7. Building code compliance
It is required by law that all gas and electric heaters are in compliance with the National Building Code of Canada (NBC) and any locally specific codes like the BC Building Code.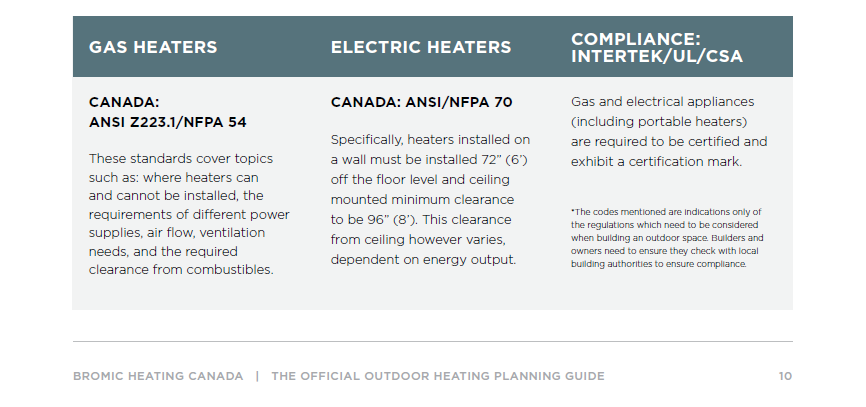 8. Installation costs
I won't bore you with the details of proper installation. Just know that it is as important as the aesthetics of the design, if not more. Our qualified installers will take care of everything for you so you don't have to worry about a thing. One of our amazing sales reps would be happy to quote your heater installation for you. Get a quote.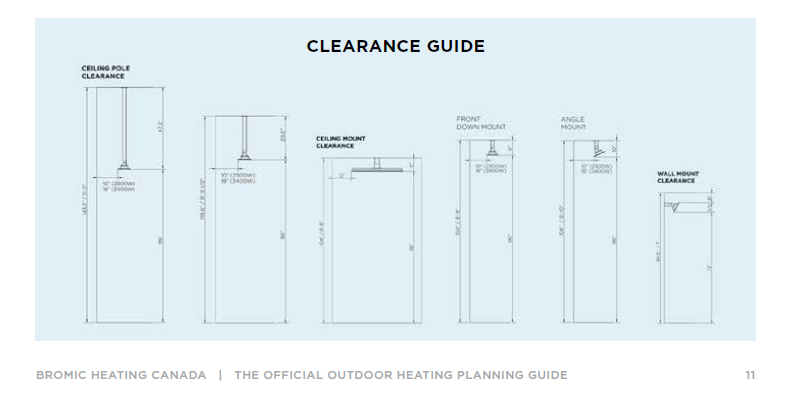 9. How will your heater be controlled?
Bromic heaters can be controlled
multiple ways depending on the type of unit.

For more information on which heater is right for you, connect with one of our sales reps.
Images and graphics provided by Bromic.com