10 Reasons You Need A Fire Pit To Enhance Your Outdoor Space
1. It extends your outdoor season and can be used all year round
Take your cup of hot cocoa outside on a late fall day to breathe in the fresh air as you watch the leaves fall. It's usually around this time of year that homeowners begin to cover up their outdoor furniture, maybe even tucking it away until next spring. Don't let your backyard or your deck become a wasteland for three to six months of the year (depending where you live). Fire pits, bowls and tables can be a great addition to lengthen the outdoor season.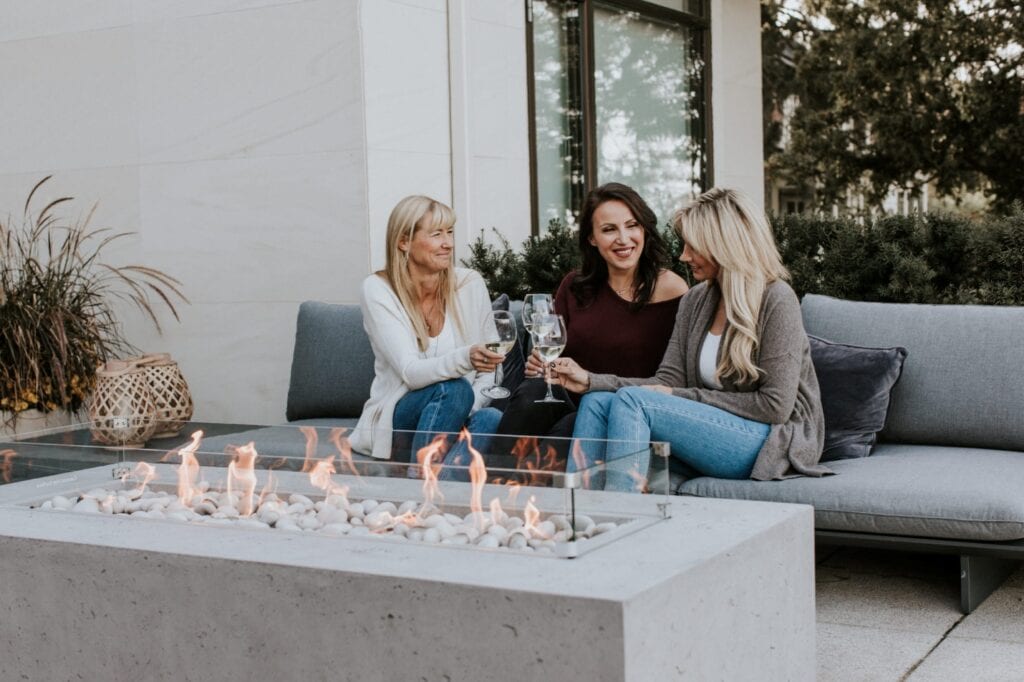 Since the pandemic started people are spending more time outside ever. It's incredibly easy to seat your guest's safe distances around your fire table.
2. A beautiful centrepiece to ground your other furniture
Your furniture can look a little lost without something to center it around. In the living room, we typically center our sofas and chairs around a coffee table. You could mimic this outside if you wanted to. But why not center your furniture around a fire pit that adds so much more to the space than a simple coffee table could. The great thing about Dekko fire pits is that they come with a powder-coated stainless steel top so they can be used as a coffee table when not being used as a fire pit. For this reason, they are often referred to as "fire tables".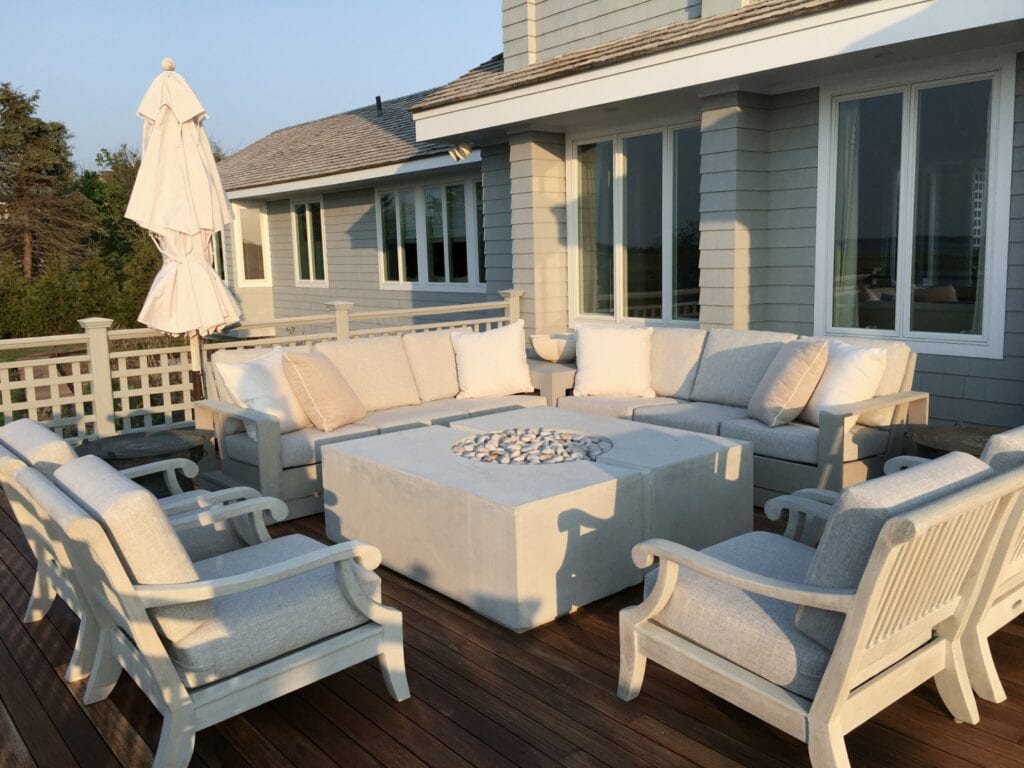 3. It adds an element of warmth and light to the space
There's nothing quite as special as spending uninterrupted time with your loved ones around a fire. Bring the joy of sitting around the campfire right to your backyard. Enjoy the ambient heat and the glow of the flickering flames. Fire tables combine the nostalgia of camping with the elegance and style of modern design.
4. Fire pits come in a variety of shapes and sizes to accommodate both large and small spaces. Fire pits can also be made custom to your space.
Dekko fire tables come in 7 different styles. Each style offers a different shape and size. Long rectangle tables are perfect for accommodating large sofas and sectionals while the round and square designs lend well to almost any configuration. Choose between 6 different concrete colours and 4 different stone options to personalize your fire pit to your individual space.
Dekko will also create anything that you can imagine. You sketch what you're after and their designers will customize a fire pit to your requirements.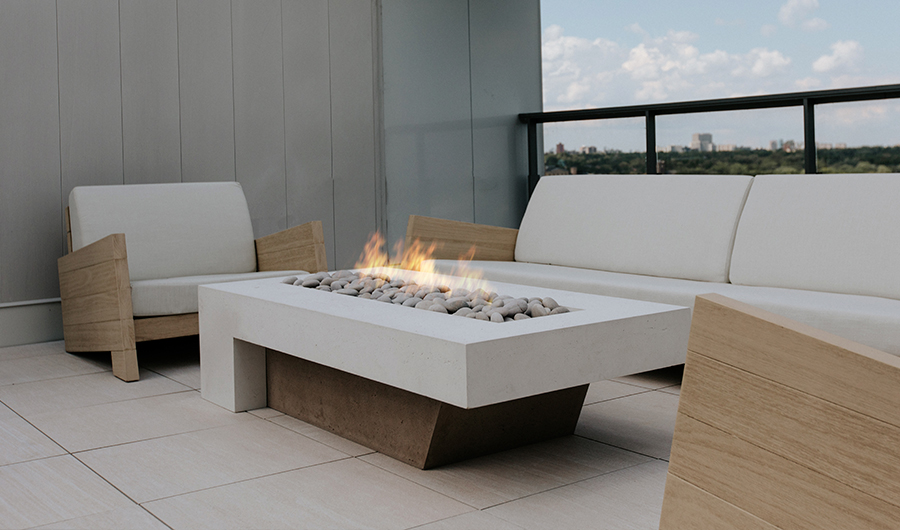 If you're thinking, but what if concrete isn't the look I'm going for? Maybe you have your heart set on a white marble look or a sleek black finish. Canada Outdoor Kitchens has something for everybody. They can also create custom designed fire tables. Our fire tables are made to order with Dekton cladding. They can be finished in all Dekton colour options and your choice of black or clear crushed glass in the center. Below is a custom fire table done for lifestyle blogger, Tori Wesszer.
Both Dekko and our own custom tables can be seen in our spacious Kelowna showroom. If you prefer to come by appointment, contact [email protected]
5. High design impact, low maintenance
Both concrete and Dekton cladding won't fade in UV light like some other materials on the market. There is no need to apply sealants or other protective coatings to your fire table. When necessary you can clean the surface of your fire pit using mild soap and water.
6. Durability of lightweight concrete and Dekton cladding
Concrete is extremely durable and can withstand most harsh climates and weather conditions.
Dekton has zero water absorption, extremely stable colour due to its lack of resin, and therefore has a high UV resistance.
7. Ease of installation – no forklift necessary
Unlike heavy concrete, Dekko's proprietary lightweight concrete is much easier to deliver and install than some other heavier units. This can save you time and money during the process that other options may not foresee.
Canada Outdoor Kitchens will also deliver and install any fire pit for you if necessary.
8. Does not have to be wood burning
Natural Gas Fire Pit
Pros: Lighting the fire in a gas fire pit is as easy as flipping a switch, which may mean you use it more often. Gas fire pits can often be installed where wood fire pits cannot, such as on decks.
Cons: Installation is more expensive and is dependent on being able to connect to an underground natural gas line. Once installed, you cannot move the fire pit.
Propane Fire Pit
Pros: Like natural gas, a propane-burning fire pit is quick and easy to light. Some propane fire pits are free-standing and can be moved easily.
Cons: You will need to monitor propane levels and haul the (heavy) canister back and forth to the store regularly for refills. Some (but certainly not all) propane fire pits look a bit clunky. It's not easy to hide a bulky propane tank, and some pits do this better than others. – Houuz.com
9. A much desired design feature if you decide to sell your home
According to a recent Houzz survey, fire pits are among the three most popular backyard additions by renovating homeowners. In other words, fire pits are hot. Having an attractive and well-maintained fire pit in your yard could give your home an edge if you decide to sell. But once you have that cool new fire pit, you probably won't ever want to leave – houzz.com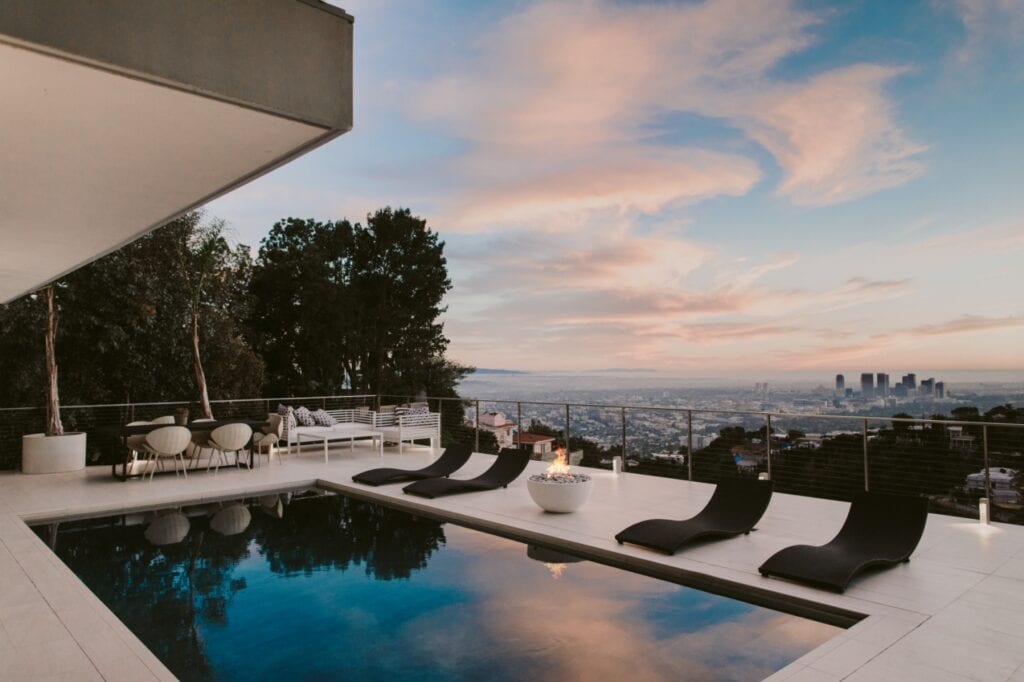 10. Not only a crowd-pleaser, but also creates a romantic atmosphere for two
While we agree, fire pits are great for social gatherings they are just as suited to a date night-in. Imagine staying in on a Friday evening instead of going out. Open that nice bottle of vino you've been saving, sit under the stars with your favourite blanket and watch the flames dancing in the moonlight.
Come down to one of our showrooms and see them for yourself!
2303 Leckie Road #107, Kelowna, BC
5839 Duncan St., Duncan, BC
8603 Glenlyon Pkwy, Burnaby, BC